The view 630 feet above St. Louis from the top of its defining monument has changed after an immense, multi-year, $380-million renovation to the city's Gateway Arch National Park .
The 1965 Gateway Arch became a global architectural icon and helped cement Finnish-American architect Eero Saarinen's position as one of the masters of American mid-century design. The striking, modernist monument to the westward expansion of the United States is the world's tallest stainless steel arch, the tallest man-made monument in the United States, and even the Western Hemisphere.
The arch itself is unchanged. Its boldly simple, award-winning design, 630 feet high and 630 feet wide remains 'a symbolic bridge between (America's) East and West, past and future, engineering and art'.
Its legs are still firmly planted on the western bank of the Mississippi on the site where the city of St. Louis was founded in the 1700's. But the experience of visiting this emblematic transition to America's West has been transformed.
The re-imagined surrounding urban National Park reconnects the riverfront and Gateway Arch to St. Louis, and visitors to the momentous events the arch symbolizes.
Busy Highway I-44 used to separate the arch and the mighty Mississippi from the city (left, below). Parkland now bridges over the highway, leading visitors uninterrupted from downtown, to St. Louis' Old Courthouse and the new Arch visitor center and museum, and the arch on the river, all the way to the riverfront (right, below).
Don't Miss:
The Old Courthouse was the site of the infamous trials where slave Dred Scott and his wife unsuccessfully sued for their freedom. The ruling against them declared they were not citizens with the right to sue and contributed to the tensions leading up to the American Civil War.
The New Museum at the Gateway Arch completely replaces the original museum from the 1970's.
Six new themed galleries features interactive and engaging exhibits including Colonial St. Louis prior to the Louisiana Purchase when it transferred to the United States, St. Louis' position as busy Mississippi river trade port, President Thomas Jefferson's vision of westward expansion, Lewis and Clark's renowned expedition, how Manifest Destiny affected native people, Mexicans and pioneers, and how the astonishing Gateway Arch monument to westward expansion was designed and built.
The View from the Top. The pair of trams in each leg of the Gateway Arch still takes visitors to a sloped observation deck at the top of the arch. From it, you can gaze over the river towards the East and Illinois, or West, over the park, the Old Courthouse, and the city of St. Louis. If you don't take the tram ride, the new Keystone Exhibit allows visitors to experience the view via live webcam feeds from the observation deck.
The revitalized, over-the-highway park extends to the riverfront, with a plaza, miles of bike and walking paths and space for community events.
The re-opening of the park after years of closure for the renovations coincides with the return of one of America's biggest Fourth of July celebrations. Fair Saint Louis returns to the waterfront and Gateway Arch urban National Park with a series of events that celebrate America's birthday and the new experiences at this breathtaking national monument.
Start your Trip!
Copyright BestTrip.TV/Influence Entertainment Group Inc or Rights Holder. All rights reserved. You are welcome to share this material from this page, but it may not be published, broadcast, rewritten or redistributed.
Rio's annual pre-Lent extravaganza, Carnaval is the highlight of Rio's – and the party world's – calendar. It runs every year in the 5 days leading up to Ash Wednesday, culminating on Mardi Gras. But not everyone can make it to the throbbing excitement of Carnaval in that short window.
If you missed what many consider the sexiest party on the planet, not to worry.
BestTrip.TV can give you an insider's view of Carnaval. Join us for a rare, behind-the-scenes experience with our fellow guests on this Silversea Grand Voyage exclusive shore excursion to one of Rio's top Samba Schools.
For Silversea's Grand Voyage guests, a one-of-a-kind Carnaval experience immerses us in all the elements of Rio's renowned celebrations:
Floats are the centerpieces of Carnaval. Samba Schools build their floats in total secrecy – even from other members of their own Samba School. That makes the access we and our fellow guests have to the float-in-the-making extraordinary. The competition between Rio's Samba Schools is so extreme, not a whisper of each Samba School's new theme can leak out. Each year, the Samba School parade entry tells a different story, and the installations, mechanisms and very glittery art - provide the framework for the story. The countless sequins, glitter, feathers and sparkly paint make the floats surreal.
Costumes outshine even the floats, if that's possible. Parade floats are escorted through Rio's Sambadrome by hundreds and even thousands of costumed dancers, musicians and other performers. Perhaps it's the extraordinary contradiction of so much glitter and shine… and so much skin at the same time. Rio's Carnaval costumes differ from other Mardi Gras celebrations around the world (like Venice or New Orleans) in one key way: they are notoriously sexy. This is the birthplace of the thong and dental floss bikini after all. Not every costume is skimpy on fabric – they are wondrous, hand-made creations, and we and our fellow guests get to play dress up with genuine Carnaval costumes.
Cocktails make everything more fun, and the Carnaval experience is no exception. Cachaca (pronounced ka-CHA-sa) is Brazil's local sugarcane spirit, this country's answer to rum. Caipirinhas are the mojito of Brazil and help make this experience into a party.
Samba may be the most uniquely Brazilian aspect of Rio's Carnaval. The local music and dance, with roots in the country's African slaves, shaped by poor urban neighborhoods of more recent years, is a great symbol of the diversity, unity and democracy of the country today. Not to mention being one of the most throbbing, sensual, irresistible rhythms in the world. To the beat of the drums, cowbells, and whistles of musicians, we get into the spirit of Samba. Spoiler alert: you may need to be born dancing samba to do the incredible music justice.
Parade time is the culmination of a year of Carnaval preparations. Rio has even built its incredible Sambadrome parade ground, lined by stands and VIP booths. They don't prevent anyone from dancing along with the Samba School entries though. And naturally, our own Silversea Carnaval experience culminates in a 'mock' Carnaval parade.
It's an overnight in Rio we'll never forget.
Plus, the Carnaval Experience supports the Youth Samba School that educates thousands of kids in the community. Join us in celebrating Brazil's famous five-day party!
Copyright BestTrip.TV/Influence Entertainment Group Inc or Rights Holder. All rights reserved. You are welcome to share this material from this page, but it may not be published, broadcast, rewritten or redistributed.
Kung Hei Fat Choy!
The Lunar New Year celebrations may be the largest global festival. A billion Chinese, plus people of Chinese descent as well as other Asian countries and communities around the world follow age-old practices to ensure another year of good fortune and prosperity. Lunar calendars have the New Year falling on different dates in February or March and celebrations take over small communities and Asia's largest urban centers.
BestTrip.TV was lucky enough to be filming in Hong Kong during Chinese New Year. Here's how we - and you – can get into the spirit of the Lunar New Year.
By Lynn Elmhirst, Producer/ Host, BestTrip.TV
Seeing Red
Colors have strong associations in Chinese lore, and red is one of the best. Red is the color of good fortune. The more of this hue in your life as you welcome another year, the luckier you'll be – or so they say. That's why you see so much red associated with Chinese culture, and especially at Chinese New Year. Seasonal markets are laden with items in red and other auspicious colors and significance.
Photo Credit
Do as we did: pack your red dress, or tie or pocket square (we even heard there's special red CNY lingerie) to wear to celebrations to draw that good fortune towards you for the coming year.
Gold/yellow is associated with royalty and status, so it's no surprise it's often paired with red as the most auspicious color combination. Don't hold back on gold jewelry!
Deck the Halls
I admire the practical aspect of conscientious housekeeping in one CNY tradition: sweeping away bad spirits and luring good spirits into your home with a good scrubbing. Then double down on your good fortune in the coming year by decorating. You'll see endless red banners and lanterns of course, bouquets of red flowers. But keep your eyes open for one other charming practice: bringing orange, tangerine, or their miniature version, kumquat trees into the home.
Photo Credit
This tradition is said to have evolved from a play on the words for orange and tangerine sounding like the words for luck/prosperity. Exactly what you're looking for on CNY. In addition, their yellow/orange color also resembles gold. In compact homes and apartments, a potted, table-top kumquat fits the bill. In larger public spaces, restaurants and grand hotels, pairs of elegantly potted, sculpted orange or tangerine trees flank entryways during Chinese New Year.
Give and Receive
Sometimes, you'll see red envelopes with gold letters and trim tied to the branches of those orange trees. Enclosing gift money in red paper is intended to bestow extra wishes for good fortune on the recipient, so the cultural significance of the red envelopes is the red paper, which amplifies the value and blessings of any money inside.
Photo Credit
For that reason, if you are fortunate enough to receive a red envelope, you accept it ceremoniously with both hands and do not open until later. Red envelopes are exchanged among family members, but employers often use the last day before CNY holidays as an occasion to thank and share best wishes with employees.
When we were lucky enough to be visiting Hong Kong during Chinese New Year, and our hosts kindly offered us lai see, we felt very touched to be included almost like family.
Set off Fireworks
While many Lunar New Year practices attract good spirits, it's equally important to keep the evil ones away. According to folklore, loud noises are ideal to scare away evil spirits. That's become a tradition of setting off fireworks. People go to markets and buy vast quantities of individual fireworks, and CNY community fireworks extravaganzas have become legendary.
Hong Kong's CNY fireworks take place over Victoria Harbour with its spectacular skyline backdrop. Take a look at the video at the top, you'll be breathless too!
Take in a Lion Dance
Any day is a good day when you get to experience a playful, whimsical lion dance. They wink and flirt shamelessly with the crowd… and naturally bring good luck and fortune at Chinese New Years. The lion's movements are performed by a two person team head and tail and have their roots in martial arts. Some include a sequence to 'pluck the greens': performing amazing feats of performance and athleticism to reach an auspicious bunch of lettuce tied with a red envelope that's dangled in front of the lion like a lure.
Photo Credit
These were our experiences in Hong Kong, and there are many other Lunar New Year celebrations to explore in China, other South-East Asian countries, and their communities around the world.
Make sure you have good fortune in the coming year by joining in!
Copyright BestTrip.TV/Influence Entertainment Group Inc or Rights Holder. All rights reserved. You are welcome to share this material from this page, but it may not be published, broadcast, rewritten or redistributed.
New Orleans is home to one of the world's greatest parties.
Like other Carnival celebrations, Mardi Gras grew from the Christian practice of feasting and celebrating on 'Mardi Gras' – which means 'Fat' Tuesday - on Shrove Tuesday, just before the solemn fasting of the 40-day pre-Easter season of Lent.
The actual dates differ every year. Shrove Tuesday can happen during February or early March, and Carnival season begins immediately after the 12th day of Christmas, continuing up to the Eve of Ash Wednesday, when Lent begins.
Other places in the world celebrate pre-Lent, too; you've probably heard of famous Carnivals in Venice, the Caribbean, in Rio and elsewhere. But New Orleans' Mardi Gras has its own unique character. The city's French-Creole heritage and culture and cuisine, steamy Southern climate - and oh, that famous local jazz! - make Mardi Gras one-of-a-kind.
Thousands of people from North America and around the world flock to Mardi Gras. Here's how to celebrate in true N'awlins style:
Feast on Fat Tuesday Food
Fat Tuesday is the one day of the year when eating fried foods is a virtue. No dieting on Mardi Gras! Sink your teeth into some of the best Creole dishes New Orleans offers. To get that local flavor, order anything on the menu with crawfish – a classic crawfish boil, crawfish bisque, or the iconic crawfish etouffee, which means 'smothered', with the local crustacean coated in a rich creamy Louisiana-seasoned sauce served over rice.
Iconic Creole stews gumbo or jumbalaya are a must while you are in Louisiana. For feasting on the run, a local muffuletta sandwich is the best best on the menu: where the special ingredient, olive salad, binds cured meats and cheeses in sesame dinner rolls.
Indulge your sweet tooth with the local version of beignet – or as you might call it: a traditional-recipe donut.
A Mardi Gras special sweet treat is King Cakes, often a brioche/raisin bread type ring topped in official Mardi Gras colors of green, gold and purple, and with a hidden bean or even baby Jesus statue inside. Whoever gets the bean, becomes the next Mardi Gras 'king', or party host.
Have a Ball
Krewes are social clubs of New Orleans' residents that date back to the 19th century, established to organize the famous Carnival parades and masked balls. Most major krewes follow the same parades schedule and route annually. These days parades are too oversized to take place inside the famous French Quarter. But they still rouse up enthusiastic spectators and toss trinkets into the crowds, including 'doubloons' – replica coins often stamped with a krewe logo – and of course beads, the symbol of New Orleans Mardi Gras decadence.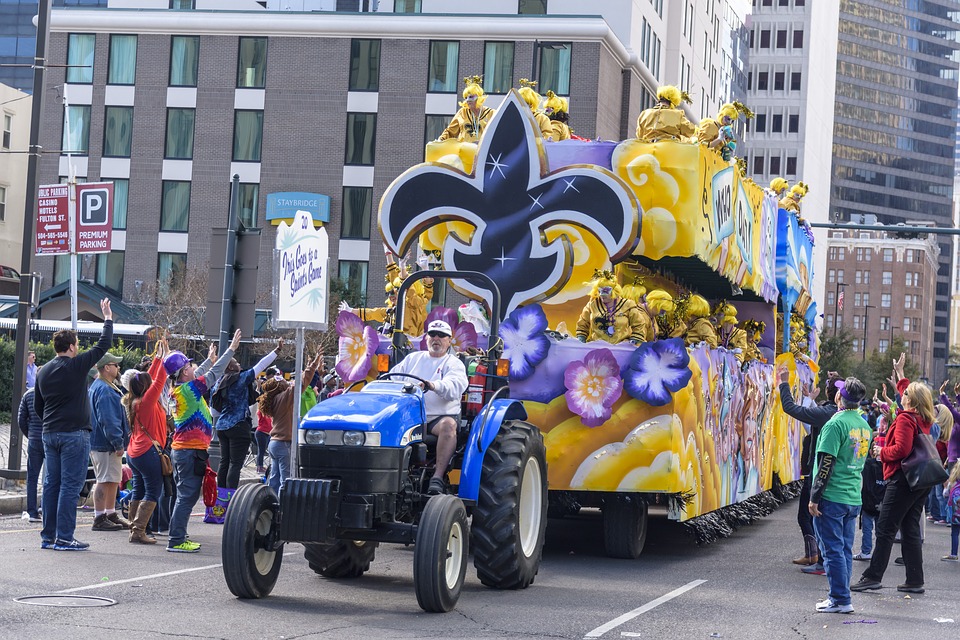 Play Dress Up
There is no Mardi Gras without the costumes. This is not a time for subtlety. Sparkles and matching headgear and masks are the order of the day, especially in Mardi Gras' traditional colors of purple, gold and green. New Orleans Mardi Gras may lack the baroque elegance of Venice or the throbbing sensuality of bikinis and samba in Rio, but dress up you must. Mardi Gras costumes span everything from black tie at private balls, to mutant octopus costumes and Elvis impersonators, jokers and mythological figures in a surreal whirlwind of excitement.
And Dress Down
It's easy to blame the current younger generation and TV shows featuring bad behavior for the decadence of topless party-goers at Mardi Gras. But semi-nudity and even cross-dressing have a long history with the Carnival in New Orleans, at least back to the 19th century. Women flashing from balconies in the French Quarter have long been documented crowd stoppers. The beads-for-baring-them motif is all part of the unrestrained party ambiance of Mardi Gras.
Feel the Music
Any time of the year, New Orleans is one of the greatest music capitals of the world, the birthplace and home of jazz. Mardi Gras takes music to another level in the city, and even more than usual to the streets, where jazz music and brass instruments are joined by the latest beats and rhythms. You won't be able to resist dancing in the streets, at parties, in hotel lobbies, at of course at any ball you are lucky enough to be invited to attend.
Start your Trip!
A night time market in the grounds of a castle. Fires and torches and twinkling lights, the smell of evergreen boughs, the best German Christmas culinary treats and artisans selling authentic German arts and crafts, Christmas decorations and cozy winter woolens. Whether you're the person who always knows exactly how many days it is until Christmas, or the 'Bah, Humbug' type... Even a die-hard Scrooge gets into the spirit of Christmas at a traditional Christmas market in Germany. And Regensburg's Romantic Christmas market might be the most magical of them all.
You can explore a number of Germany's best Christmas markets on itineraries of seasonal river cruises as BestTrip.TV did. Escorted tours also offer special Christmas market itineraries. We know families who have made a trip to a famous Christmas market a family gift. All members of a family, from grandparents, parents, single aunts and uncles and every kid ever! find joyful memories together at a European Christmas market. We love the idea of celebrating the season with travel, and Regensburg's Romantic Christmas Market will warm anyone's heart.
Start your Trip!
Copyright BestTrip.TV/Influence Entertainment Group Inc or Rights Holder. All rights reserved. You are welcome to share this material from this page, but it may not be published, broadcast, rewritten or redistributed.
Munich's annual extravaganza of beer halls, buxom girls in dirndls, pretzels and the best of the 'wurst' (pun intended!) is already underway in September.
If you're missing Bavaria's biggest party, you're not out of luck yet: the world's SECOND largest Oktoberfest might be closer than you imagine.
Start your Trip!
Copyright BestTrip.TV/Influence Entertainment Group Inc or Rights Holder. All rights reserved. You are welcome to share this material from this page, but it may not be published, broadcast, rewritten or redistributed.
Why scramble around outdoors in spring rain or snow for a chocolate bunny or some foil-wrapped chocolate eggs... when you could be in France, watching (and smelling!) chocolate fashion parading down the catwalk?
That's just one of the delicious experiences BestTrip.TV had when we visited the elegantly-named Salon du Chocolat, an annual event in Paris celebrating all things chocolate.
The chocolate costumes are not for eating, but most everything else is. You'll find tastings, edible art, and an incredible display of things you never imagined could be done with the world's most popular confection (jewelry! sculpture!).
Treat your inner chocoholic to the best event ever, in one of the most celebrated culinary and fashion destinations in the world. And please stop eating your kids' chocolate bunnies.
Start your Trip!
Copyright BestTrip.TV/Influence Entertainment Group Inc or Rights Holder. All rights reserved. You are welcome to share this material from this page, but it may not be published, broadcast, rewritten or redistributed.
Sometimes grownups need to trade spinning teacups for grownup culinary experiences. How do celebrity chefs, winemaker dinners, beer tasting seminars and irresistible cuisine sound?
All photos: Disney California Adventure
If you think you might want to balance kids' Goofy with your inner foodie, one of the best times of year to visit Disney might be during its Food & Wine Festival, when you can enjoy the park and culinary experiences for kids and adults alike.
The Disney California Adventure Food & Wine Festival jump-starts spring with hundreds of gastronomic adventures and delicious flavors from across the Golden State. It runs this year from March 10th til April 16th (the Florida park has a similar festival later in the year.)
Highlights for the whole, multi-generational family trip include more than a dozen marketplaces open every day, an entire menu of daily culinary demonstrations and tastings, plus beer, wine and spirits seminars, music everywhere, delicious food, and fun crafts created especially for younger guests.
Celebrity chefs scheduled to appear during the Festival include Guy Fieri, Robert Irvine, Cat Cora, Duff Goldman, Emily Ellyn and Keegan Gerhard.
Children ages 3 to 11 may join in the fun with the popular complimentary Junior Chef experience (led by Chef Goofy, and available on a first-come, first-seated basis), and the Jammin' Chefs, who serve up tasty rhythms with pots and pans that really get cooking with the help of sous chefs Chip 'n Dale.
Many of the Festival events are included with admission to Disney California Adventure. Guests who want to add the Signature Events may purchase separate tickets at an additional fee for:
"In the Kitchen with …" on Saturdays from 6-7 pm: Each Celebrity Chef will lead a 60-minute culinary demonstration and Q&A followed by an autograph session. The experience includes a tasting of some of the prepared dishes.
Sweet Sundays on select Sundays from 10:30- noon: A 90-minute culinary demonstration focuses on the sweet side of the culinary arts. Following a light breakfast and a sparkling toast, the Guest Chef for that day will demonstrate up to three recipes. Guests will enjoy samples from the chefs.
Winemaker Dinners and Brewmaster Dinners on Thursdays from 6:30 to 9 pm: A four-course dinner features wines and winemakers or beers and brewmasters. Wine or beer selections will be paired with courses created by the Disney Executive Chef Team and each winemaker or brewmaster will speak on the libation and the pairing.
Additional ticketed programs include:
Culinary Demonstrations (presented daily throughout the Festival) – Guests will enjoy 30-minute culinary demonstrations presented by local, visiting and Disney chefs. Each demo will focus on a single recipe, ingredient or cooking style. Guests will receive a tasting sample of the dish prepared.
Wine, Beer or Spirits Education and Tasting Seminars (presented daily throughout the Festival) – Beverage seminars presented by industry experts will enlighten guests who want to learn more about their favorite spirits. Each 30- to 45-minute seminar will focus on a specific beverage type, region or label, and guests will enjoy tasting samples of some of the beverages discussed.
We think the food festival might be the best way to create delectable memories for the whole family on a Disney vacation.
Start your Trip!
Copyright BestTrip.TV/Influence Entertainment Group Inc or Rights Holder. All rights reserved. You are welcome to share this material from this page, but it may not be published, broadcast, rewritten or redistributed.
Springtime cherry blossom viewing has become one of the best-known Japanese festivals around the world.
BestTrip.TV's Producer and Host Lynn Elmhirst shares her experience of 'Hanami', and some tips if you are lucky enough to travel to Japan during those magical few weeks every spring.
I'm a tree hugger. I love nature, woods walks, gardens and flower shows, making fresh bouquets for my home… I've even studied Japanese flower arranging (ikebana). So imagine how excited I was to be in Japan during the season when their famous cherry blossoms are in bloom. And to be invited to join a 'Hanami' party. (Top image credit).
'Hana' means flower in Japanese, and in this context, means almost exclusively cherry blossoms (sakura), although it can also mean other flowering fruit trees, especially plum (ume). 'Mi' is from the verb to see or view.
So Hanami is just a simple Japanese word 'Flower blossom viewing', but it has become one of the most revered Japanese traditions.
Hanami as a custom is believed to go back over a thousand years, even as far back as the 700's, during a time of tremendous cultural growth in Japan.
At that time, the practice was more closely related to agricultural and divining purposes, to announce the rice-planting season and predict the harvest. Naturally, offerings were made to the spirits in the fruit trees. This eventually evolved into including sake drinking in the offering.
Well you know where it went from there. Parties.
Once an Emperor in the Heian period started holding flower-viewing parties with sake and feasting beneath the blossoming trees, he set the scene for centuries to come. Poetry was written about the lacy, delicate flowers, seen as a symbol of the short-lived beauty of life itself. Masses of plantings in full bloom appear from a distance like fluffy pale pink clouds, inspiring generations of artists. Paintings, wood block prints, and tapestries celebrated the barely-pink blossoms and their increasing meaning to Japanese society. Where royalty and artists set a trend, the rest of society follows. Soon, even common people were planting cherry trees and taking picnic meals and drinking sake under the boughs of blossoming cherry trees.
Fast-forward to today, and that custom remains. I had some vague notion in my head that we'd stroll in awe under bowers of blossoms in the castle grounds, perhaps ending the uplifting Nature experience with some tea.
Instead, one member of our group went out at 6 am that morning with plastic picnic sheeting to lay out and stake a claim to a prime picnic spot under a particularly beautiful tree with a broader view over the park. By the time we joined him late afternoon, other parties had clearly been going on for hours. And the sake, beer, and shochu (sometimes called 'Japanese vodka') had been flowing.
The blossoms were breathtaking, but they didn't seem to be the star of the show. Cherry blossoms were just the set. It was all about the party. Barbecues, drinks, portable karaoke machines created a raucous scene – in an admittedly pretty magical atmosphere. In many places, hanami viewing starts after work – is even a work /colleague event – and continues late into the night. Some parks hang paper lanterns to light the trees.
Night Hanami. Image credit.
The contrast between the charm of the blossoms and trees and twinkling lights and the noisy parties below is shocking to a first timer like me. I found myself trying to block out the noise to find a sense of the wonder and spirituality of the earliest Hanami participants.
And for all the seeming irreverence, the Japanese take viewing very seriously. People past the age of enjoying raucous parties still do hanami, often more in temples, where they follow prayer rituals. TV news and papers forecast the 'cherry blossom front', following the season from the warmer south to the cooler north, only a couple of weeks in each place, and only a few days of truly prime viewing. In the big cities of Osaka and Tokyo and the ancient capital Kyoto, cherry blossom season normally takes place at the end of March and early April.
A blossom forecast with the predicted dates of blossoms. The numbers are for dates (3.22 is March 22). Note the "cherry blossom front" moves from South to North. Image credit.
If you are traveling to Japan on pleasure or business any time near cherry blossom season, find a way to participate in a party. If you do 'hanami', there are some etiquette rules to follow:
Tips for Hanami in Japan:Be respectful of the mass of blossom admirers and the cherry trees themselves; don't shake branches, step on roots, or pick blossoms.
Many blossom parties and venues can be rowdy, but not always. If most admirers are in prayer or quiet contemplation, a loud foreigner can wreck that experience for them AND the reputation of foreigners in Japan. Don't be that guy.
Although parties with sake, beer, shochu (sometimes called 'Japanese vodka') are part of the modern ritual, be warned that not all parks permit alcohol; hopefully, you're going with Japanese friends, a guide, or colleagues, and they'll know if you can toast the blossoms with spirits.
Similarly, not all parks permit barbecues, so your packed Hanami picnic may have to be cold and pre-prepared.
Some parks don't have garbage collection capacity for the huge flow of Hanami traffic; be prepared to dispose of your garbage in your own bags.
The Japanese National Tourism Organization publishes a list of the best places to view cherry blossoms. You can find it here: http://www.jnto.go.jp/eng/location/interests/cherry.html
Start your trip!
Copyright BestTrip.TV/Influence Entertainment Group Inc or Rights Holder. All rights reserved. You are welcome to share this material from this page, but it may not be published, broadcast, rewritten or redistributed.
5 Can't Miss Music Events in Montreal in 2017 from Leonard Cohen to Pink Floyd Opera to an Electronic Music Parade.
On May 17, 1642, a small colony called Ville-Marie was founded by a small group of 50 explorers from France. The little colony would soon be known as Montreal and 375 years later, a city of 1.7 million is celebrating a milestone.
Montreal's 375th anniversary conveniently falls alongside Canada's 150th, and makes Montreal one of the top Canadian destinations to visit in 2017 thanks to an exciting line-up of festivals and events throughout the year. Montreal has always fostered and celebrated its musical scene, and in its 375th anniversary year, music reigns.
Here are five musical experiences you can't miss in Montreal this year.
World Premiere of: Another Brick in the Wall: The Opera
When: Select dates between March 11th and 24th
Another Brick in the Wall: The Opera is based on Pink Floyd's 1979 album The Wall and is a collaboration between Opera de Montreal and Pink Floyd's former bassist and chief songwriter, Roger Waters.
Starting out as a concept album (1979) and then a film (1982), The Wall is a psychological drama inspired by Waters' life. Waters got the idea for The Wall after a concert at Montreal's Olympic Stadium in 1977, so the iconic composition is in a sense, coming home with the premiere of its operatic interpretation on the Montreal stage during the city's 375th celebrations.
Waters will also be a librettist in the production.
Free Montréal Symphonique Concert at Foot of Mount Royal
When: August 19th
Montreal's inner-city mountain has been central to the city since the start, and nowadays, it's a green urban retreat for locals and visitors. Mount Royal takes center stage of 2017 birthday celebrations during a free performance at its base. The concert brings together major artists and Montréal's three great orchestras: the Orchestre Symphonique de Montréal, the Orchestre Métropolitain as well as the McGill Symphony Orchestra for the first time, under the direction of Simon Leclerc.
This extravagant, far-reaching concert will feature over 300 musicians, pop artists and choral singers. The theme of the concert is: seasons, and a series of tableaux will evoke the city, its inhabitants, its history, its landmarks and its vibrant personality.
Electro Parade Around Montreal
When: September 2nd
The first Electro Parade in North America will feature local and international DJs on parade floats equipped with state-of-the-art sound systems and wandering through the streets of Montréal - turning city streets into dance floors.
This global trend has already become popular in Paris and Zurich, where similar events have taken place.
Full programming, names of guest DJs, and the parade route will be announced soon.
Leonard Cohen Exhibit at MAC Museum
When: November 9th 2017 to April 1st, 2018
Well before he passed away last year, the Musée d'Art Contemporain de Montréal (MAC) was preparing a retrospective on this famous Montrealer's life.
Leonard Cohen: A Crack in Everything will be one of the last major Montreal 375th events in 2017. The exhibition will pay homage to this global star and feature a collection of new works created by artists who were inspired by Cohen's works and include visual art, performance art, music, written word and film.
One More Thing:
Cité Mémoire Brings History to Life
When: Every night throughout 2017 and beyond - except April 10th to May 10th
Cité Mémoire (pictured, top) invites visitors to experience Montreal's history through a series of multimedia projections around Old Montreal - on buildings, cobblestone streets and even on trees.
For the full experience complete with music and narration, visitors can download the "Montreal en Histoires - Cite Memoire" app before your trip and take along your headphones. The free app is available in four languages and has a map of Old Montreal that shows each projection location and lists the best times for viewing each piece.
This is a self-guided walking tour that visitors can do every evening at your own pace, but there are also Cite Memoire staff along the route to help with interpretation and questions.
Favorite installations include "Suzanne", a love story projection on the Clock Tower Quay set to the iconic song by Leonard Cohen, and "The Face of Montreal", projections of various Montreal faces on trees along Jacques-Cartier Quay.
For a complete line-up of Montreal's 375th anniversary celebrations, visit: www.375mtl.com/en.
Start your Trip!
Copyright BestTrip.TV/Influence Entertainment Group Inc or Rights Holder. All rights reserved. You are welcome to share this material from this page, but it may not be published, broadcast, rewritten or redistributed.
Kung Hei Fat Choy!
BestTrip.TV discovers the traditions, the spectacle and the little known facts behind one of Hong Kong's biggest festivals.
Chinese New Year - or Lunar New Year - is celebrated not only in mainland China, plus Hong Kong and Macau, but also in Chinese communities around the world, as well as throughout South-East Asia: Singapore, Viet Nam, Thailand, Taiwan, the Philippines and others.
Chinese New Year falls on different dates every year in January or February, with each year dedicated to a different creature of the Chinese zodiac. Celebrations last days in Hong Kong, and include adorable lion dances, temple activities, special foods, flowers, and plants, wearing red, exchanging gifts and other traditions for good fortune, a magnificent parade in downtown Hong Kong... and fireworks!
We visited Hong Kong on Chinese New Year, and we think it's one of the most exciting times to visit one of the world's most exciting cities.
It's hard to imagine the awe-inspiring Hong Kong harbor front skyline become even more spectacular... but this Chinese New Year fireworks show takes it to a whole new level.
Start your Trip!
Copyright BestTrip.TV/Influence Entertainment Group Inc or Rights Holder. All rights reserved. You are welcome to share this material from this page, but it may not be published, broadcast, rewritten or redistributed.
You say: Christmas, the French say: Noel. Paris is always a top holiday escape destination, but the City of Light is not the only place to have a 'Joyeux Noel'.
Here are my other favorite places in the world to celebrate the season with French 'joie de vivre'.By: Lynn Elmhirst, Producer and Host, BestTrip.TV
Provence, France:
In the wondrous South of France, Provence isn't just for summer tans. Winter in Provence is one of the most magical times to visit. There's still sun and fresh air and charming, uniquely Provencal seasonal traditions.
There's the 'Big Supper' on Christmas Eve, culminating in a ritual of 'The Thirteen Desserts', said to represent Jesus and the 12 apostles. Local and family traditions vary, but the desserts often include almonds, figs, dates, and other local fruits and flavors.
My favorite Provencal Christmas tradition is one that visitors can enjoy year round… and even take home as a souvenir or a gift. Santons are small, hand-painted clay figurines (the word is derived from Provencal dialect for 'little saint'). Santons make up table-top nativity scenes, but in a traditional Provencal nativity scene, it wasn't just the Holy Family, three wise men, angels, a shepherd and some farm animals. Traditionally, there were 55 figures that included characters from everyday Provencal life, like a fishwife and a vegetable seller.
Santon-making is a family craft that is still passed down through generations today, and you can buy santons from workshops through the year. Marseille holds a December Santon fair, and there are also children's holiday santon painting workshops.
New Orleans, Louisiana:
Wherever the royal French motif, the fleur de lys, pops up around the world, it's a clue to that area's historic French ties. In New Orleans, the fleur de lys city symbol joins Creole and Cajun dialect, culinary and other traditions in an enduring, beloved, and unique culture. Two of its holiday traditions were originally observed only on Christmas Eve, but these days, visitors can celebrate the season with locals through the month of December.
Photo by Rebecca Ratliff/NewOrleansOnline
Bonfires on the Levee date back to the earliest Cajun settlers. They were set along the banks of the Mississippi originally to light people's way home for the holiday, or to Midnight Mass, or it's said most recently, to light the way for 'Papa Noel' – Cajun Santa Claus. They have become extravagant in size and design, some accompanied by fireworks and concerts, drawing crowds that feast on bowls of hot gumbo and community good cheer. A hundred or more may be lit every year in neighboring parishes, and visitors can take guided scenic tours of the experience.
Reveillon Dinners were also once exclusively on Christmas Eve, following Midnight Mass. Now, instead of dinners starting at 2 am at home, Reveillon ('awakening') dinners are usually family and friends gathered at conventional dinner hours in a restaurant. Dozens of top city restaurants offer Reveillon menus through the month of December, not just on Christmas Eve, so it's easy for visitors to the city to participate in the tradition.
James Beard Award-winning chef Frank Brigtsen of Brigsten's Restaurant is at the forefront of a new generation of New Orleans chefs who are revitalizing Creole/Acadian cooking, creating modern dishes that pay tribute to Louisiana's culinary traditions. He shared his Reveillon Dinner menu recipe for Oysters Bienville, named after Jean Baptiste le Moyne, the Sieur (Lord) de Bienville, the founder of New Orleans.
Brigsten's Oysters Bienville - Makes around 3 dozen oysters
2 Tablespoons unsalted butter
1 cup diced ham (1/4-inch pieces)
4 cups finely diced yellow onion
3 cups finely diced celery
1 bay leaf
1 tablespoon + ½ teaspoon salt
¼ teaspoon ground white pepper
¼ teaspoon ground cayenne pepper
½ teaspoon dried whole-leaf thyme
½ teaspoon dried whole-leaf oregano
2 teaspoons minced fresh garlic
2 cups sliced scallions, white part only
½ cup diced shrimp
2 Tablespoons brandy
1 cup oyster liquor
1 cup milk
2 cups cream
1 cup unsalted butter
1 ½ cups all-purpose white flour
36 oysters on the half-shell
1. Melt 2 tablespoons of butter in a pot over high heat. Add the ham and cook for 3-4 minutes, stirring occasionally.
2. Add the onions, celery, and bay leaf. Cook over high heat, stirring occasionally, until the onions become soft and clear.
3. Reduce heat to low. Add the salt, white pepper, cayenne, thyme, oregano, and garlic. Cook, stirring occasionally, for 1 minute.
4. Add the sliced scallions (white part only). Cook, stirring occasionally, until the scallions become soft, 2-3 minutes.
5. Add the shrimp and cook, stirring occasionally, until the shrimp turn pink, 1-2 minutes. Add the brandy and cook for 1 minute.
6. Add the oyster liquor and cook for 3-4 minutes, stirring and scraping the bottom and sides of the pot.
7. Add the milk and cream and bring the mixture to a boil. Simmer for 3-4 minutes. Remove the bay leaf. Transfer the mixture to a tall container and purée until very smooth. Transfer the puréed sauce back into the pot.
8. Make a blond roux: Melt the butter in a skillet over medium-low heat. Gradually whisk in the flour and cook for 1 minute, whisking constantly. Bring the Bienville sauce to a boil and gradually add the roux, whisking constantly. Reduce heat to low and simmer for 1-2 minutes. Remove from heat. Refrigerate until fully chilled.
9. To serve, preheat oven to 500 degrees. Using a pastry bag, top each oyster on the half-shell with about 3 tablespoons of the Bienville Sauce. Bake at 500 degrees for 15 minutes. Serve immediately.
Bon Appetit!
Martinique, the French Antilles:
It's a little piece of France in the Caribbean. Over the years, residents of the island of Martinique have combined the best of both worlds in their unique local Christmas traditions.
One of the most charming must be the 'Fleurit Noel': the 'Christmas Flower'. This delicate white flowering shrub made its way into local Christmas traditions due to a blooming season that runs December to March. It certainly makes me think of an angel's cloud! It's also thought to cure colds and flu.
Photo: Tourism Martinique
If you travel to Martinique during the holiday season, experience Christmas caroling like you've never experienced it anywhere else in the world. Chante Nwel are get togethers with traditional Martinican holiday cuisine - much of it pork based from a history of households keeping a pig in the backyard and making it the focal point of holiday meals - and singing accompanied by the goatskin tambour bele drum, and call-and-response.
Photo: Tourism Martinique
The carols are collected in a booklet of local versions in Antillean Creole, and you'll never forget the first time you sing - to the tune of 'Jingle Bells' - joyful song lyrics "Gut the Pig", or other unique local twists on traditional carols.
Quebec, Canada:
Quebec City, the cradle of French civilization in North America, is unforgettable. Built over 400 years ago, it is the only walled city north of Mexico, a UNESCO World Heritage site of stone buildings and steep rooftops true to the French architectural style of the day.
Photo: Quebec City
Wandering the streets of historic Quebec City feels like a taste of Europe at any time of year, but during the snowy Christmas season it's truly magical – the city has been voted one of the top 10 places in the world to celebrate the holidays.
The province's biggest French city, Montreal, is Quebec City's slightly younger sibling, celebrating its 375th birthday this year with the tallest Christmas tree in Canada. Quebec is world famous for its music scene; make sure to attend caroling and concerts in both cities during the Christmas season, and do not miss the opportunity to go to Christmas Eve midnight Mass in one of the historic cathedrals.
Photos: Tourisme Montréal. Giant Christmas Tree: Eva Blue. Place St. Jacques: Matthieu Dupuis.
My mother's side of the family is French Canadian, and we follow the tradition of midnight Mass and a traditional 'Reveillon' meal, including tourtiere, Quebec's traditional meat pie, served with pea soup.
Here's my family recipe for you to enjoy during the holidays or any time of the year.
Photo: BestTrip.TV
Lynn's Family Tourtiere Recipe (Quebec Christmas Meat Pies)
Makes 2 pies or 24-30 tarts
3 lbs ground meat (We use 2 lbs beef and 1 lb pork. Some use all pork, or game, or even duck)
2 large onions, grated or finely minced
2 cloves garlic
2 teaspoons salt
1 t thyme
½ t sage
½ t pepper
¼ t ground cloves
½ t allspice
Brown meat with onions and spices til onions and meat are cooked and still moist. Add
1/3 c red wine
2 large potatoes, peeled, boiled, mashed
Mix thoroughly and cook 5 min. Let cool to room temperature.
Mix in 1 egg
Pack into pie or tart shells, top with a pastry cover, cut slits for vents, and
Wash tops with 1 egg beaten with 1 t water.
Cook in pre-heated 410 degree oven til pastry deep golden. Serve hot.
Bon appétit and Joyeux Noel!
Start your Trip!
Copyright BestTrip.TV/Influence Entertainment Group Inc or Rights Holder. All rights reserved. You are welcome to share this material from this page, but it may not be published, broadcast, rewritten or redistributed.
rom sophisticated seafood to decadent desserts, Alabama's signature dishes have loyal fans the world over. That's because they bring together centuries of Southern tradition with a fun and modern twist.
read more
Kuala Lumpur, Malaysia
Based on the Tourism Malaysia event list, here are the top events not to miss from October to December 2012 in the country.

October 2012
* 1 to 31 October – Fabulous Food Malaysia, the Malaysia International Gourmet Festival
o Enjoy the different delicacies and food specialties of Malaysia all-month long.
* 1 to 31 October – Borneo International Yachting Challenge at Miri, Sarawak
* 5 – 8 October - 19th Malaysia International Jewellery Festival 2012 (Autumn Edition)
* 19 -20 October – Rhythm of Kinabalu, an art exposition organized by the National Department of Culture and the Arts
* 20 - 21 October 2012 - The Mt. Kinabalu International Climbathon 2012
o Tagged as The World's Toughest Mountain Race, participants scale 21km to the peak of
o Kinabalu Mountain and descend the Mountain in 3 hours
* 21 October – Malaysian Motorcycle Grand Prix at Sepang Circuit
* 25 October to 3 November - Borneo Safari International Off-Road Challenge

November 2012
* 17 November 2012 - Deepavali Celebration, a Hindu celebration of the triumph of good over evil
* November 2012 - Raja Muda Selangor Regatta, an annual event organized by Royal Selangor Yacht Club.
* 23-25 November 2012 - The International Gong Festival to be held in Sarawak, an annual event organized by the National Department for Culture and Arts.
* November 2012 - The Kuala Lumpur International Film Festival, organized by National Film Development Corporation
* 25 November - Borneo Bug Fest
* End Nov 2012 to early Jan 2013 – The Malaysia Year-End Sale

December 2012
* 2 December 2012 - Cuti-Cuti 1Malaysia Dance Tourism Carnival organized by Ministry of Tourism
* December 2012 - The Sepang 1000km Endurance Race to be held at the Sepang International Circuit, in Selangor

We'll meet you in Malaysia this last quarter of 2012!

Contact us to get started with your next trip to Malaysia!
Get the Travel Tips
Get The Savvy Traveler Newsletter
Places we've blogged about